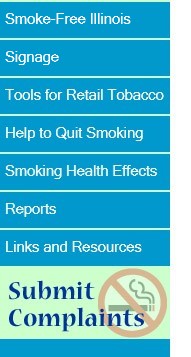 Understanding the Smoke-free Illinois Act
A Guide for Workplaces
As of January 1, 2008, indoor public places and places of employment in Illinois will be smoke-free. Places of employment include offices and work areas, conference rooms, break rooms, cafeterias and other common areas. Public places include restaurants, bars, bowling alleys, private clubs, gaming facilities and public conveyances.

The Smoke-free Illinois Act
The Smoke-free Illinois Act (Public Act 95-0017) protects the public from the harmful effects of exposure to tobacco smoke by prohibiting smoking in public places and places of employment and within 15 feet of any entrance, exit, windows that open, or ventilation intake of a public place or place of employment. Places of employment are defined in the Smoke-free Illinois Act as any area under the control of a public or private employer that employees are required to enter, leave or pass through during the course of employment. These areas include, but are not limited to, offices and work areas, restrooms, conference rooms and classrooms, break rooms and cafeterias and other common areas. Smoking also is prohibited in public conveyances, like taxis, buses, shuttles and any vehicle owned, leased or operated by the state or a political subdivision of the state.
The act also includes requirements for signage and describes how to lodge a complaint, the enforcement process and how fines will be determined for violations. Local ordinances may have additional regulations on where smoking is prohibited. To learn more about whether additional regulations apply, contact your local health department.
Secondhand smoke
Secondhand smoke is the combination of smoke exhaled by a smoker and the smoke from a burning cigarette. This combination is dangerous for both the smoker and the nonsmoker. Secondhand smoke contains more than 4,000 chemicals, including more than 50 known cancer-causing substances. When nonsmokers are exposed to secondhand smoke, they inhale many of the same cancer-causing chemicals that smokers inhale. The U.S. Surgeon General has concluded that there is no risk-free level of exposure to secondhand smoke. Even small amounts of secondhand smoke exposure can be harmful to people's health.
According to the 2006 U.S. Surgeon General's report, the workplace is a major source of secondhand smoke exposure for adults. Exposure to secondhand smoke in the workplace has been linked to an increased risk for heart disease and lung cancer among adult nonsmokers. For more information, go to the 2006 SurgeonGeneral's Report: The Health Consequences of Involuntary Exposure to Tobacco Smoke, which is available on-line.
Responses to smoking surveys
The majority of Illinois citizens support the right to breathe clean indoor air. The 2005 Illinois Adult Tobacco Survey found that nearly three-fourths (72.4%) of adults believe smoking should not be allowed in work areas, while 72.8 percent support a law for smoke-free restaurants. According to the 2006 Behavioral Risk Factor Surveillance System, 79.5 percent of Illinoisans do not smoke. Based on the experiences of other states with smoke-free laws, the compliance rates are high.
Business owner requirements
Beginning January 1, 2008, business owners shall:
Not permit smoking at their business or within 15 feet of entrances, exits, windows that open and ventilation intakes.
Post "No Smoking" signs at each entrance to the place of employment or public place where smoking is prohibited. "No Smoking" signs must comply with the specification in the Smoke-free Illinois Act.
Remove ashtrays from areas where smoking is prohibited.
There is no requirement for an employer to provide an outdoor shelter for smokers. As part of the workplace, private offices also must be smoke-free since smoking is prohibited throughout the workplace. Additionally, employers may designate additional areas in the workplace as smoke-free.
The benefits of removing secondhand smoke:
Protect workers from dangerous chemicals found in secondhand smoke
Lower maintenance expenses (carpet and drape cleaning, paintwork)
Lower insurance premiums (fire, medical, workers compensation, liability)
Lower labor costs (absenteeism, productivity)
Workplaces where smoking is prohibited
The Smoke-free Illinois Act prohibits smoking in indoor public places and workplaces unless specifically exempted. A "public place" includes, but is not limited to:
hospitals
restaurants
bars
taverns
retail stores
offices
elevators
indoor theatres
libraries
museums
concert halls
educational facilities
auditoriums
enclosed or partially enclosed sports arenas
meeting rooms
schools
exhibition halls
convention facilities
polling places
private clubs
gaming facilities
dormitories
health care facilities or clinics
enclosed shopping centers
retail service establishments
financial institutions
educational facilities
ticket areas
public hearing facilities
restrooms
waiting areas
lobbies
bowling alleys
skating rinks
reception areas
churches
public conveyances
government owned vehicles and facilities, including buildings and vehicles owned, leased or operated by the state or state subcontract
no less than 75 percent of the sleeping quarters within a hotel, motel, resort, inn, lodge, bed and breakfast or other similar public accommodation rented to guests
Exemptions to the Smoke-free Illinois Act
Retail tobacco stores in operation prior to January 1, 2008 that derive more than 80 percent of their gross revenue from the sale of loose tobacco, plants, or herbs and cigars, cigarettes, pipes, and other smoking devices for burning tobacco and related smoking accessories are exempt. Retail tobacco store that begins operation after January 1, 2008 may only qualify for an exemption if located in a freestanding structure occupied solely by the business and smoke from the business does not migrate into an enclosed area where smoking is prohibited. A tobacco department or section of a larger commercial establishment or an establishment with any type of liquor, food, or restaurant license is not considered a retail tobacco store and must comply with the Smoke-free Illinois Act. Annually, by January 31, the retail tobacco store shall provide an affidavit to the Illinois Department of Public Health stating the percentage of its gross income that was derived from the sale of tobacco products, as described above.


Private and semi-private rooms in nursing homes and long-term care facilities are exempt under the Smoke-free Illinois Act. These facilities, however, must comply with statutes and administrative rules under which the facility is licensed and the fire protection and life safety codes included in those rules.


Hotel and motelsleeping rooms rented to guests and are designated as smoking rooms are exempt from the act, provided that all smoking rooms on the same floor must be contiguous and smoke from these rooms must not infiltrate into nonsmoking rooms or other areas where smoking is prohibited. Not more than 25 percent of the rooms designated for useto guests in a hotel or motel may be designated as rooms where smoking is allowed. The status of rooms as smoking or nonsmoking may not be changed, except to permanently add additional nonsmoking rooms.
Requirement to post signs

"No Smoking" signs or the international "No Smoking" symbol, consisting of a pictorial representation of a burning cigarette enclosed in a red circle with a red bar across it, must be clearly and conspicuously posted in each public place and place of employment where smoking is prohibited.

Signs that meet these specifications are available to download on the Illinois Department of Public Health Web site here.

Proprietor responsibilities

The purpose of the Smoke-free Illinois Act is to protect others from the harmful effects of secondhand smoke. An employee or a member of the public can file a complaint against an individual or business that violates the law.

Failure to comply

If the business owner fails to comply with the Smoke-free Illinois Act, an employee or patron may file a complaint The Illinois Department of Public Health, state-certified local public health departments and local law enforcement agencies are designated enforcement agencies under the Smoke-free Illinois Act.

Businesses found in violation of the Smoke-free Illinois Act are subject to fines. Fines are assessed at $250 for the first violation, $500 for the second violation and a $2,500 minimum fine for all subsequent violations within one year of the first violation.

Fines for individuals who violate the Smoke-free Illinois Act are not less than $100 and not more than $250.

Employees and patrons who want to quit smoking

If you smoke and want to quit, or know someone who wants to quit, call the Illinois Tobacco Quit Line toll-free at 866-QUIT-YES (866-784-8937), which is operated by the American Lung Association in collaboration with the Illinois Department of Public Health. This free telephone service provides smokers and people who want to help them quit with information and advice about how to quit successfully.